International "IoT 360″ Summer School on the Internet of Things
October 29th – November 1st, 2014 – Rome, Italy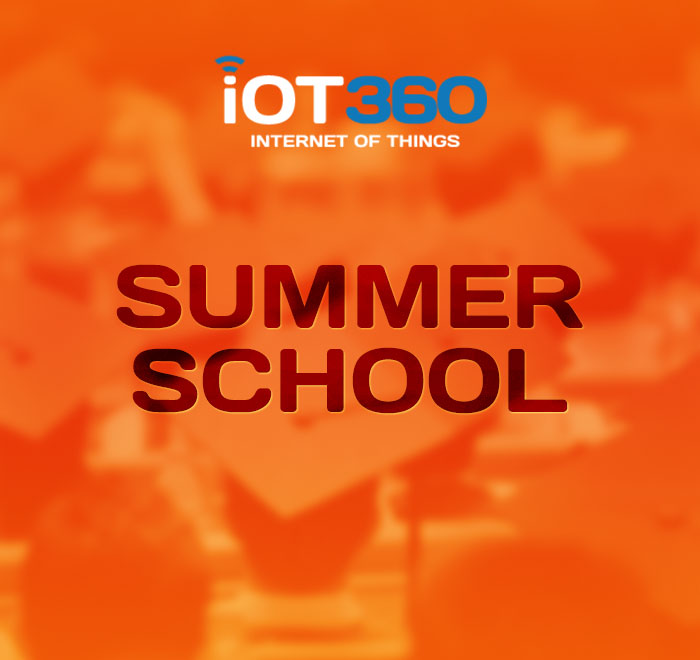 In the last decade the Internet of Things (IoT) paradigm has slowly but steadily and increasingly permeated what researchers and engineers study and build. However, a 'Killer' IoT application is still missing so far. The 'IoT-360' Summer School will demonstrate what it takes to deliver an IoT-based product from scratch. To do so, the School will be divided into two strongly coupled parts.
The first part starts well before the School: the intended participants are encouraged to submit their IoT project ideas, i.e. what they would like to start implementing and receive support for during the School. The best innovative ideas will be selected through a vote-based system open for votes to EAI community members. The second part of the School will consist of lectures and tutorials as well as a hands-on session where School participant teams will be formed to work on selected projects.
The lectures will first survey the IoT 'pillar' technologies providing a future outlook and will then be focused on IoT development, i.e. IoT apps, open platforms, hardware, software/middleware. The last day of the School will offer an excellent opportunity to "play with things" by taking part in a "IoT Hands-on" session. During this session all the school participants grouped in teams will implement features of the selected projects relying on knowledge gained during the School and on IoT hardware/software that will be made available. Finally, for the attendees, there will be a chance to "pitch and sell" their projects developed during the "IoT hands-on" session.
Important Dates (2014):

Early registration: July 8
Registration deadline: Sept 3 Oct 16 REGISTER
Project submission (optional): June 5-Sept 5 Oct 16
Project notification: Sept 8 Oct 19

Organization committee:

Andrey Somov (CREATE-NET, Italy)
Raffaele Giaffreda (CREATE-NET, Italy)

Useful Links:

School Program link
Project submission link
Venue and Accommodation link
Info link
Technical partner:

Stars put punk edge in their Met
red bottom boots
Gala outfits
NEW YORK (AP) Miley Cyrus, Anne Hathaway and Cameron Diaz were among the celebrities to embrace the punk theme at Monday night Met gala, the fundraiser at the Metropolitan Museum of Art that affectionately known as "the party of the year." But Beyonce, the event louboutin replica honorary chairwoman, seemed the girl on fire on the red carpet that might rival the Oscars in celebrity wattage.Wearing a flame motif gown with long gloves and a long train by Givenchy Riccardo Tisci, Beyonce was one of the last arrivals, following in the studded heel footsteps of Katy Perry, Taylor Swift, Jennifer Lawrence and Jennifer Lopez.Beyonce christian louboutin replica was already thinking ahead, though, wondering if she need scissors at the end of the night to get out of the corset.Many stars embraced the big Costume Institute exhibit they were there to celebrate: "Punk: From Chaos to Couture." Beyonce co chairs for the event included Tisci, who escorted Rooney Mara, who wore a white lace gown with exaggerated shoulders and a heavy hardware zip front.Mara said she never went through a punk fashion phase but "I was definitely a punk."Tisci also dressed Kim Kardashian, who has seen much of her maternity wardrobe reviewed almost always negatively on social media on a daily basis. The online critics have replica christian louboutin more fodder with her floral print, high neck gown.In a more classic style but likely tabloid fodder anyway were Tiger Woods and Lindsey Vonn, walking the red carpet as a couple.Sarah Jessica Parker donned an oversized feather mohawk by Philip Treacy that complemented her graffiti splashed and slashed gown by Giles Deacon, which she also paired with custom made, thigh high, tartan plaid Christian Louboutin boots. She paid careful attention to the theme, she said. "I just want to be asked back next year! That all that matters!"Cameron Diaz and Anne Hathaway both said they were influenced by the punk scene especially the music when they were growing up. Diaz came with Kristen Stewart and Stella McCartney, who designed both of their outfits. Diaz cobalt colored cape dress had a severe studded belt. "I feel so chic," Diaz said.Hathaway showed off a short blond hairdo, not dissimilar to Miley red bottoms Cyrus and a vintage burned out Valentino gown. Hathaway said her inspiration for the outfit was Blondie Debbie Harry, who was just a few steps ahead on the red carpet in a glitzy studded blazer red bottom heels by Tommy Hilfiger."Punk rock has a unique culture and distinct style that I really admire," Hilfiger told The Associated Press earlier in the day. "Music of all genres has always been a central influence in my designs. I tend to gravitate more toward classic American rock, but I listen to and love punk rock albums from The Ramones and Blondie."Katie Holmes, in a molded gown with a metal halter neckline by Calvin Klein Francisco Costa, also gave a nod to Harry as her punk icon.Madonna said she was a fan of Sid Vicious and Nancy Spungen "and that whole era." Still, she added, she didn want her plaid jacket, netted top and red bottom pumps stockings to be too literal. "I wanted to do my own thing, but my own twist on it."The Met gala traditionally mixes Hollywood stars, fashion designers and top models. It largely orchestrated by Anna Wintour, Vogue editor in chief. She wore a hot pink floral Chanel gown, which she said is a color that symbolizes the punk red bottom shoes movement.The edgy theme could have replica louboutin thrown some people off their fashion game. "I think (punk) is so eclectic and so original and maybe it sort of represents what very fearless about fashion."form fitting J. Mendel black silk crepe gown with black lace insert and a heavily embellished metallic crystal neckline. It was one of many looks that was to be made almost immediately available through the website Moda Operandi. (These are bona fide, designer gowns, not knockoffs.)Articles Connexes: